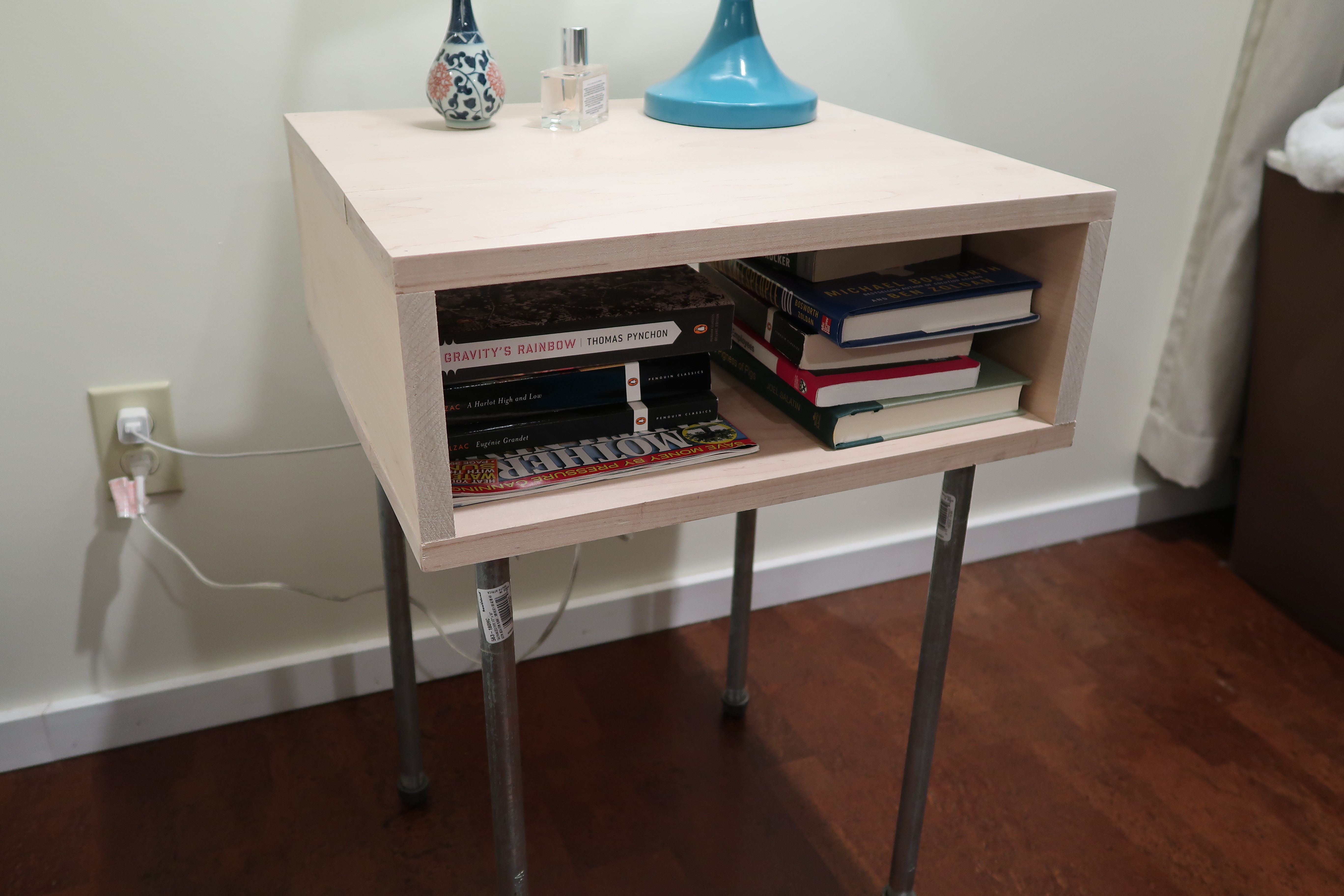 We made our first piece of furniture for our new (small!) home. When we bought the homestead, we had different plans for the house…plans that did not include living it! One year later, after months of renovation, here we are! But, we're here without our nice furniture from our old home—because it's just too big for this place.
We decided that instead of buying a whole new set of furniture that likely would include some toxic chemicals and not be the exact dimensions we needed, that we would build some pieces to suit our new place. Thanks to the DIY blogosphere, we have inspired plans for making several tables and shelving units, the flagship of which is a kitchen table—the centerpiece of the home of foodies (gluttons?) like us.
After some brainstorming and enthusiastic exploration of Pinterest, it seemed prudent to start small and learn everything we can about making furniture: so, we started with a bedside table—one that's a similar style to the kitchen table we'd like. And it turned out okay!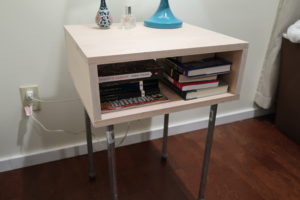 Check out the picture of the almost-finished product. It's a modern night stand, so it's very simple, structurally: just a rectangle on some legs.
We found the plans from a lifestyle blog at mayanrocks.com. We built a maple table that's 27" high, 18" wide, and 16.5" deep, and we used metal pipe fittings that are 20" high for the legs. We kept it simple: we did not stain it or seal it, but we did sand it.
We did a few things differently:
We used pipes for legs, rather than hairpin legs, because I was worried that the hairpin legs would dent our soft cork floor, and I was feeling uncharacteristically cheap. I'm not a fan of the pipe legs and will buy the hairpins next time!
We also changed the size, but out of necessity: I didn't do some math right (hey, the first step is admitting an error, right?!), so we needed to decrease the width from 20" to 18" to get enough cuts out of our slick maple.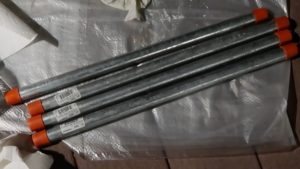 And as you can tell, we didn't stain it, because the maple we bought is beautiful…we also didn't use fancy nails. We use our brad nailer.
The supply list for this project is short. You might even have some of the supplies already. (more…)