Primal Pumpkin Pie from Scratch!
Two years ago, we made our first pumpkin pie from a fresh pumpkin, and we were hooked. We repeated it last year—but maybe with too much cardamom!—and this year, we're testing out a couple of minor variations. This is a primal pumpkin pie—we use cream in it. Other people use coconut milk: use what makes you happy, but make sure it's the right amount.
For this recipe, you'll need a few ingredients
Crust
1.5 cups of coconut flour
Two tbs of honey
Four tbs of coconut oil—add more if your dough is too dry
Dash of cinnamon
Pie filling

Two cups of pumpkin puree ½ cup of heavy crea
½ cup of honey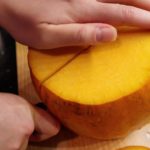 Three eggs
½ tsp each cinnamon, ground cloves, ground nutmeg, and ground ginger
Pinch of cardamom. And by "pinch", we mean 1/8 of a teaspoon or less
1/4 tsp of salt
Step 1: bake the pumpkin!
We bought a large pie pumpkin—probably about eight inches tall, with a diameter of six inches—for this pie. Even though we only need two cups of pumpkin puree, the flesh of the pumpkin varies, we have found. So, we went for a nicely sized gourd.
We baked our pumpkin by cleaning it and then baking it at 350 degrees until the flesh is soft. We started by washing it (because it's going onto our nice cutting board) and then cutting off both ends. Then, we cut it vertically down the middle and clean out the seeds and strings. We kept the seeds this year—our chickens will love them.
We put the pumpkin halves in a 13×9" glass baking dish with about an inch of water and put it into the oven at 350 degrees. Our pumpkin cooked for two hours—for the last hour, we checked it every fifteen minutes to make sure it wasn't burning. (Not so fun to clean!)
We let the pumpkin rest for about an hour before pureeing it—eggs are one of the ingredients, and we didn't want hot pumpkin to cook the eggs before they were blended properly.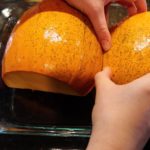 Step 2: make and bake the crust!
Who doesn't like a nice pie crust? Coconut flour can be tricky when you're baking—not only does it absorb almost all liquid and become spongy, but it burns easily, too. It also doesn't adhere very well—which is where the honey comes in.
We mixed the ingredients in a bowl with our hands. We've also used the wire attachment for the Kitchen Aid—it's more work than it's worth. You want the mixture to be as crumbly as normal pie crust—if it keeps its shape or breaks into large chunks with you make a fist around it, it's ready. We mixed it by hand for about five minutes. Don't be afraid to add more coconut oil or coconut flour if the consistency isn't right.
We pressed the mixture into the pie pan and then baked it at 350 for ten minutes—just long enough for the coconut oil to melt nicely. Then, we set it aside on the stove until our pie filling was ready.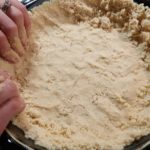 Step 3: Cream the pumpkin!
We scooped the flesh of our pumpkin into a large measurin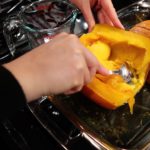 g cup and pressed out the air as we went along. Then, we put it into a large glass bowl and added the wet ingredients. We added them in order of convenience—since they'll be well blended, the order doesn't matter.
(Do you have a lot of pumpkin left over? We did! Good news: it's perfect in pancakes and cheesecake. You probably shouldn't let it go to waste…)
Now, for the easy part: pour the pumpkin puree into the pie crust.
Step 4: Bake the pie!
Bake it at 350 degrees for 45 minutes to an hour, or until a knife inserted into the middle comes out clean.
Then, cool it and refrigerate it. (We usually refrigerate ours after we've taken out couple of slices for quality control.)
Step 5: Eat it.
Step 6: Tell us what you think!
Please leave a comment on our video. We're curious if you tried a variation that was particularly awesome.