We are passionate about raising premium-quality lamb that is clean and safe for your family to enjoy!  
We primarily focus on katahdin and katahdin x dorper sheep for our meat production.  Katahdin and dorper sheep are hair sheep (they shed their wool in the spring and don't require shearing) and have a milder flavor than commercial wool sheep.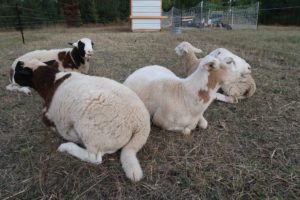 How we raise our lambs:
Our lambs are 100% grass-fed and finished.  They NEVER consume grain.  

We use a rotational grazing system so the lambs are moved onto fresh pasture regular which improves the health of both the lambs and the land.  

Our lambs are supplemented with certified organic hay 

Our lambs are completely free of vaccines, chemical wormers, or pharmaceuticals

We provide a very low-stress environment for the lambs.  We process the lambs on-farm to minimize the stress. 
Visit Our Management Practices for more information
We sell our lamb meat by the whole animal or the half.  As of now, we do not sell individual retail cuts.  Our lambs are processed on-farm and then brought to a *butcher to prepare "custom cuts" to your specifications.  
2017 Lamb Prices
Whole Lamb - $5.50 / lb hanging weight
a $50 deposit is required to reserve your lamb
Half Lamb - $6.00 / lb hanging weight
a $25 deposit is required to reserve 1/2 lamb
*Butcher fees are separate - Typically, the processing fee is $65 and the butchery and wrapping is $0.70/lb based on hanging weight
Hanging weight is the weight of the carcass processed carcass prior to butchery/custom cuts.  For example, if a lamb weighs 100 lbs live weight, after processing the hanging weight would be approximately 50 lbs.  
The average hanging weight for our lambs in 2016 was 54 lbs. with a range of 38 lbs - 60 lbs.  You may request a smaller or larger lamb.
Lambs will be ready for harvest in November